Hello all. Been playing with my little blue truck again. I'm sure shes tired of seeing the welder and plasma.
Flatbed project got started now its on a never ending delay it feels like. Heres the basic idea what I want to do.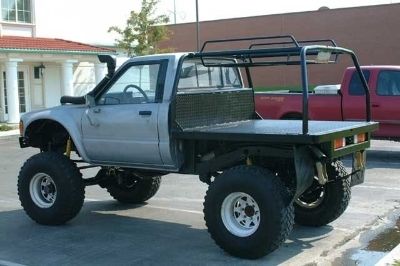 Tail lights kicked my butt for a while. Come to find out I need a converter to use only one tail light per side. Its on the way. Been waiting to get that done so I could drive it over to my buddies place and use his tube bender. Front headache rack will be there like on a regular old flatbed. Then I'm gonna put a removable one on the back so I can use it as a ladder rack set up kind of sort of.
Initial plan was to use diamond plate as the flooring part but my buddy had this stuff laying around for free. Came out of the floor of an old refer truck. Its aluminum. Wish I would have known I was gonna use it from the get go. And I would have flush mounted it. But I didnt feel like tearing my bed all the way apart to do that.
Since my beds been slow I decided to work on another project. Half doors for her.
They've been a huge pain in the ass. Got em all welded up today and was gonna start grinding them smooth and my eyes started to feel a little burnt. So I called it a day. Hopefully by this time next week. I can wrap up the doors and flatbed. Or at least send them to paint.